Submission Guidelines
Closed for Submissions Until December 2016 to implement a quarterly issue system. Thank you for your understanding and patience. Disregard all information posted below this updated.
Some months will have themes associated with them. For example, my September issue (open for submissions from July 21-August 20) will be themed Feminism and Strong Female Voices. All work will be considered. Men can submit work for the issue and have equal opportunity to be published. I encourage all voices!
For a schedule of themed months, see the homepage or the bottom of this page.
I'm currently only accepting pieces of poetry and art (photography, digital art, visual poetry, and high quality photos of other medias, such as sculptures or paintings, created by the artist).
While I plan to expand this eventually, I'm starting slow since it's only me working on this project at the moment.
Note: I will ask one artist each issue to use an image as cover art, attributed to the artist, of course.
Please submit 1-4 poems in an attached document and send it to
theunprecedentedreview@gmail.com
Please submit 1-5 pieces of art in the smallest possible file format without losing quality to


theunprecedentedreview@gmail.com
I would like unpublished work, except for things posted on blogs or personal websites. If you have a blog or website, feel free to give me the link. I will share it. I will accept reprints, if they only were print (not online) in the first place. No simultaneous submissions! Also, your work needs to be edited. If I see something glaring, I may email you, but often times I will assume it was intentional for poetic purposes. Don't expect me to fine tooth comb your work.
Please send a 100 word or less bio in the same document as well. You can attach a picture if you would like, but it is not required.
I will try to respond within two week at the longest, but since this is a side project, my job does come first. I will notify you of acceptance or rejection.
What am I looking for in poetry? I want poems that strike a nerve. I want poems that tell a story. I want poems that beg to be heard with such clarity that the reader remembers the words for months to come. I want poems that are bold, daring, and even a little too forceful or blunt. I want poems that have a piece of the writer in them. I want your work. :)
I will post accepted submissions in one of three manners.
1. Online only
2. Magazine only
3. In both the magazine and online
I will tell you where I'm publishing your work. By submitting, you are authorizing any of those locations.
All rights remain with the author or artist, but please credit The Unprecedented Review if you republish. Also, the poem or artwork will remain on the site or in the e-magazine and may be shared on the Official Facebook and Twitter pages unless otherwise requested.
These guidelines are subject to change at anytime.
Powered by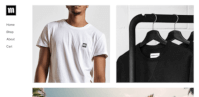 Create your own unique website with customizable templates.